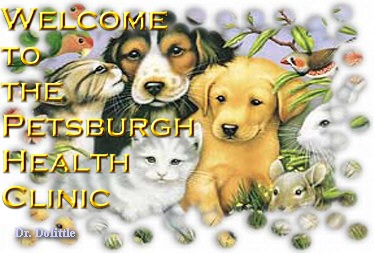 Keeping your pet healthy is a major part of being a responsible pet owner. This site is here to help inform you on ways to keep your pet healthy and in turn happy.

Here you can learn why it is important to take care of your pets teeth, keep your pet on Heartworm prevention year round, and important information on a number of other health issues. However, this site is not here to take the place of your Veterinarian. If you have any questions about your pets health you should immediately consult with your Veterinarian.

I would like to introduce you to Jack. He is the official mascot of the Health Clinic. Please click on the great globe made by the Petsburgh Pet Shop to view Jacks site.
I have also provided links to sites containing pet health information.
General Pet Health Care Links

American Veterinary Medical Association

Purely Pets - poison Prevention

Again please remember that this site is strictly an informative site. It is not meant to take the place of a proper diagnosis from a licensed Veterinarian. If you have any questions about your pets health please see your Veterinarian right away.

Petsburgh has a lot of great things to offer. Please come visit us.

Questions or comments on this website? Please email Dr. Dolittle at drdolittle@drdolittle.net